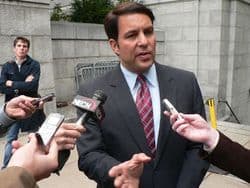 The national Republican Party has a well-deserved reputation for being homophobic, and Richard Tisei, an openly gay GOP Congressional candidate from Massachusetts, understands he'll have to deal with some resistance should he win his election and move to Washington next year. But Tisei says he's fully prepared for anti-gay "knuckleheads".
"I feel totally comfortable," Tisei said of his encounters with Republican big-wigs.
He went on, telling The Hill, "I'm sure that there are a few knuckleheads that will, you know, look at me based on my sexuality as opposed to what I bring to the table. But I've got to say, every single person I've met so far has made me feel really comfortable."
Tisei also told reporter Russell Berman that GOP leadership like House Speaker John Boehner are "supportive of me because they believe that the party needs to be more diverse" both in terms of gay inclusion and, he believes, his geographic origins: "There aren't very many Northeast Republicans nowadays, and most people recognize that in order to have a truly national party, you have to have members coming from all over the country."
Boehner's office says that while the speaker and Tisei "don't agree on every issue," including DOMA, which Boehner has spent hundreds of thousands of tax-payer dollars defending and Tisei says is "unconstitutional", "Richard and the Speaker respect one another". Boehner also campaigned for Tisei earlier this month, which could read as either a sign of respect or as an insurance policy for his own speaker seat.