Mitt Romney made some interesting comments on abortion yesterday, the Des Moines Register reports: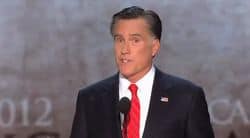 "There's no legislation with regards to abortion that I'm familiar with that would become part of my agenda," the GOP presidential candidate told The Des Moines Register's editorial board during a meeting today before his campaign rally at a Van Meter farm.
But by executive order, not by legislation, he would reinstate the so-called Mexico City policy that bans U.S. foreign aid dollars from being used to do abortions, he said.
President Barack Obama dropped the policy on his tenth day in office, Romney said.
Romney has said he opposes abortion, except in instances of rape, incest and when the mother's life is threatened.
The Obama campaign quickly seized on Romney's abortion comments Tuesday, sending out a news release accusing Romney of contradicting himself because he has said he would appoint Supreme Court justices who would overturn Roe v. Wade.
DailyKos notes (and tracks) the fact that there really isn't a position on abortion that Romney hasn't taken.