Sicily's new governor is gay, the WSJ reports: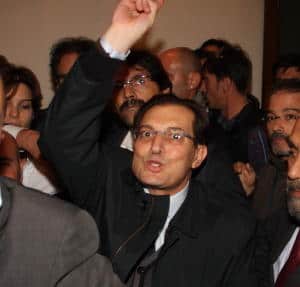 Rosario Crocetta—an openly gay candidate backed by a coalition of leftist and Catholic parties—garnered 31% of the vote, beating Sebastiano Musumeci, the center-right candidate backed by former Prime Minister Silvio Berlusconi. Mr. Musumeci received a quarter of the vote. "This is a Sicily that wants to change," Mr. Crocetta said in a television interview.
The biggest surprise, analysts said, was the number of Sicilians who decided to either stay away from the polls or cast their vote for the Five-Star Movement, a protest party led by euro-skeptic and former comedian Beppe Grillo. Only 47% of voters turned out this year, compared with the 67% that voted in 2008. The Five-Star Movement grabbed 15% of the vote for Sicily's regional assembly—more than any other party. Its candidate for governor, warehouse worker Giancarlo Cancelleri, received 18% of the vote.
He's not likely to help gay rights in the country though, the Guardian reports:
He is one of only two openly gay men to be elected governor in Italy, but Crocetta has never used his sexual orientation to raise awareness of gay rights, or to commit to change Italy's unique status as a western country that does not recognise any kind of same-sex union.
On the contrary, Crocetta has been quoted as saying that if he won he would refrain from sex.
In this conservative southern region of Sicily, this is likely to reinforce the idea that being gay and having sex is unacceptable, according to Paola Bonesu, a political communication consultant and co-founder of Pane & Politica. "He is ready to refrain from sexual intercourse in order to distance himself from the stereotypical promiscuous homosexual lifestyle," she said.
The Union of Christian and Centre Democrats, a centrist party close to the Catholic church, which joined the leftwing Democratic party to form the coalition Crocetta leads, is also likely to limit pro-gay political initiatives in the region. Crocetta's inability to act on social rights will be compounded by the lack of power given to governors under Italian legislation.