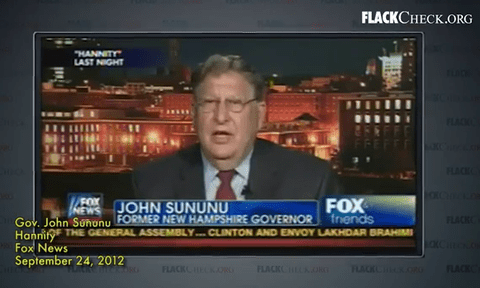 Former New Hampshire Governor and current Mitt Romney surrogate John Sununu is currently being criticized for calling President Obama "lazy" during an interview with MSNBC's Andrea Mitchell today.
"[The president] revealed his incompetence, how lazy and detached he is, how he has absolutely no idea how serious the economic problems of the country are, and how he has failed to even begin to address them," Sununu said about Obama's debate performance. Mitchell gave him an opportunity to clarify his remarks – "Did you really mean to call Barack Obama, the president of the United States, lazy?" — and Sununu doubled-down.
"Yes," he said. "I think you saw him admit it the night before when he delivered the pizzas [to staff on Monday]. He said, you know, 'They're making me do this work.' He didn't want to prepare for this debate. He's lazy and disengaged."
"Lazy and disengaged" is almost the exact wording Sununu used during a September 24th appearance on Sean Hannity's Fox News program, when he called President Obama "lazy" and "detached". He reiterated those remarks three days later, on Gretchen Van Susteren's show, telling the host that slain Libya Ambassador Chris Stevens "suffered the consequences" of poor security in Benghazi.
Watch from today and the Hannity appearance AFTER THE JUMP.