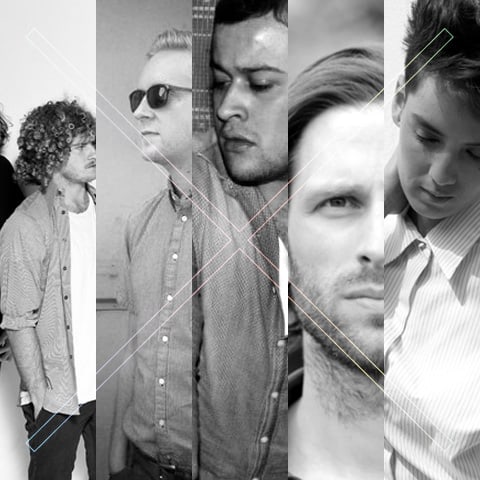 BY OCCUPY THE DISCO / TADEU MAGALHÃES
The OXD Mirror is a weekly music column brought to you by the boys of OCCUPY THE DISCO (OXD), a New York City based movement created by three music lovers, Ru Bhatt, Josh Appelbaum, and Tadeu Magalhães, who want to share their love for disco, house and dance music with the world.
Mitzi: 'Who Will Love You Now'
Electro-pop 4-piece collective Mitzi, hailing from Australia, has a sweet new release on Future Classic. Along the lines of fellow Aussies Cut Copy and Van She, Mitzi adds a touch of softness to the electronica influenced 'Who Will Love You Now,' creating a blissful and lighthearted song. I can easily see this becoming the soundtrack for a modern love story.
Tempogeist feat. Samuel: 'Hold On (Rogue Vogue Remix)'
Tempogeist has been around for less than a year, comprised of Belgian boys Dries Nijs and Thomas Swerts.  They decided to join forces and create disco-inspired tracks that are heavily influenced by French electronica. Their very first release, Transatlantica, is an EP which includes three original tracks and remixes by Satin Jackets, Rogue Vogue, and a free remix by Monitor 66, all of whom you may be familiar with from reading The OXD Mirror. Canadian producer Rogue Vogue adds his uplifting 90's house touch to 'Hold On,' and creates the highlight track of this release.
Bronx: 'Burnin' Up"
19-year-old Francisco Dávalos, known simply as Bronx, has released a new outstanding track this week. Josh showcased his previous single on The OXD Mirror last month, and Bronx's new work clearly keeps up with the good vibes. 'Burnin' Up,' out on Nurvous Records, is a noticeable shift from the magical balearic beats of 'I'll Be Loving You.' The young Mexican producer introduces a faster tempo and a stronger, more elaborate composition that will work very well on the dancefloor.
MORE NEW TRACKS, AFTER THE JUMP…
Lindstrøm: 'Rà-àkõ-st'
Lindstrøm and Todd Terje are, without a doubt, two of my favorite producers of all time. They happen to come from the same country (Norway,) are currently having great momentum and have recently collaborated on an album that is about to come out next month. Lindstrøm is releasing his second LP in less than a year, following the more personal and experimental Six Cups of Rebel. His new work, Smalhans (entirely mixed by Todd Terje!), is said to have a more dancefloor-oriented approach. We are given two tracks to preview: 'Ęg-gęd-ōsis' and 'Rà-àkõ-st,' the latter featured above. The two talented producers have transported the Euro-disco sound created by Giorgio Moroder and Donna Summer in the 70's to the current year like nobody else. According to the album announcement, "Smallhans is Lindstrøm at his very best, perfected by Todd Terje." That couldn't sound better.
Kim Ann Foxman: 'Hypnotic Dance'
New York based producer Kim Ann Foxman has a special place in my heart. Unfortunately, it is not common to see female producers in the dance music world, but Kim represents them brilliantly. After spending years as one of the key members of collective Hercules & Love Affair alongside Andy Butler, Kim recently started a solo career which has proven solid and promising. She often takes over the decks in NYC, at both straight and gay clubs. Her latest release, Return It/Hypnotic Dance, is out now on Needwant Records, a label that has been flawlessly curating some of my favorite music in the past few years. 'Hypnotic Dance' takes over the classic Chicago house style and Kim's vocals are always a pleasure to the ears.
This week's post was written and curated by Tadeu Magalhães.
For more information on OXD, check out our website and accompanying blog at www.occupythedisco.com, like us on Facebook, or follow us on Twitter: @OccupyTheDisco.