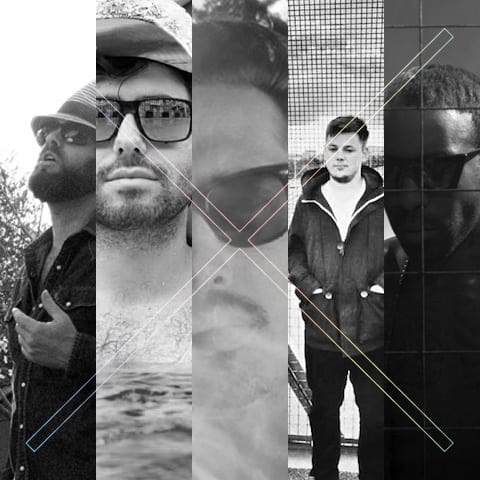 BY OCCUPY THE DISCO / TADEU MAGALHÃES
The OXD Mirror is a weekly music column brought to you by the boys of OCCUPY THE DISCO (OXD), a New York City based movement created by three music lovers, Ru Bhatt, Josh Appelbaum, and Tadeu Magalhães, who want to share their love for disco, house and dance music with the world.
Woolfy vs. Projections: 'Running Around Your Love'
LA duo Simon James (Woolfy) and Dan Hastie (Projections) have been making music together since 1999. They have recently released The Return of Love, their second full length album on German label Permanent Vacation, featuring chill soundscapes that range from house to dub and balearic. The entire album is filled with extremely well-composed tracks, and 'Running Around Your Love' stands out right away with its whispered lyrics, and funky bass. Make sure to check out The Return of Love in its entirety, as the track really comes to life when heard in context to the rest of the album.
DCUP: 'I'm Corrupt (Viceroy Remix)'
Mostly known for the infamous club track 'We Speak No Americano,' Australian producer DCUP has a new release that sounds much less eager to be a mass dance floor hit — but is no less audacious. The song has been re-interpreted by Viceroy, who injects a "summer-all-year-long" mood into the track. By putting together a piano, a great bass line and vocals by cheerful children and you he invokes a smile from anyone who listens. In this case, it's likely to elicit a few dance moves as well.
Jeremy Glenn: 'Partytime (Extended)'
One the most fascinating aspects of disco music is how it is constantly being referenced and re-interpreted, even three decades past its "death." With 'Partytime,' Jeremy Glenn reminds us of the 70's when he borrows Christine Wiltshire's classic vocal performance for Phreek's 'Weekend,' but he also takes us back to the 90's by mixing it all up with some claps and classic house beats. This modern song captures the joyous energy of the 70's, making it apparent why disco provided the soundtrack for gay liberation in the United States at that time.
MORE NEW TRACKS, AFTER THE JUMP…
Ejeca: 'Horizon'
'Horizon' is the first release of young Irish producer Ejeca on one of my favorite record labels, Needwant. After a couple of EPs that helped showcase his talent for dance floor-ready music, Ejeca's brand new release is a clear indication that he could soon be placed amongst some of the best house music producers out there. This powerful work should be experienced in its full glory on a dance floor, preferably one with a great sound system.
Tyson: 'Mr. Rain (Mario Basanov Vocal Remake)'
Lithuanian superstar producer Mario Basanov has been constantly raising the bar with every remix and original production he releases, and his rework for Tyson's 'Mr. Rain' is no exception. Though mostly known for creating hypnotic deep house melodies (often released through Needwant Records,) this time around Basanov went down a decidely 80's-inspired path, combining synths with Tyson's scratchy vocals. Basanov serves up an iconic dance track that reminds us of producers like Pnau.
OCCUPY THE DISCO (OXD) curates and recommends music events to the gay community in NYC—in an effort to move the focus of the nightlife scene beyond the promoter and venue and to the music itself. OXD's goal is to educate, entertain, engage and empower the gay audience to reclaim their ability to question and experience the unknown. The OXD Mirror will serve to showcase tunes that are definitely off-the-beaten-path but rightfully deserve the attention of the gay ear. It's music that will make you dance, dream, and most importantly, love.
TONIGHT
Occupy the Disco for Aeroplane @Highline Ballroom
Tonight we are inviting our gay friends in New York to Occupy the Disco with us as we hear Aeroplane spin at Highline Ballroom. Originally a duo (comprised of Vito De Luca & Stephen Fasano, now The Magician), Aeroplane gained tremendous amounts of buzz with their spacious cosmic disco remixes of Grace Jones (William's Blood), and Friendly Fires (Paris). Considered a leader in the nu-disco and Balearica scene, Aeroplane's records demonstrate a passion for soulful disco and early '80s electronica.
Aeroplane's recently shared a preview of his remix for Kimbra, who everyone may know from her collaboration with Gotye on 'Somebody I Used to Know.' The classic disco guitar in the background adds an uplifting layer to this song, and we can easily see this one becoming as big as Aeroplane's remix for 'Paris.' Supporting Aeroplane will be Fixed NYC, DJs JDH & Dave P, as well as Catz 'n Dogz. Bring a few friends to occupy the dancefloor with us for a night of cosmic-disco dancing, and let us know if you can attend via our Facebook Event Page.
This week's post was written and curated by Tadeu Magalhães.
For more information on OXD, check out our website and accompanying blog at www.occupythedisco.com, like us on Facebook, or follow us on Twitter: @OccupyTheDisco.