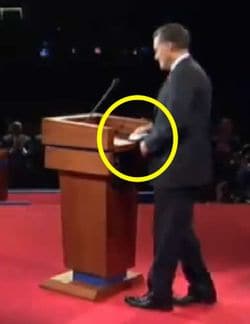 BY SAM GREISMAN
A look back at today's top stories
ELECTION 2012
The fallout from Wednesday's debate continues and Democrats, Jon Stewart included, continue to be flabbergasted over Obama's performance or lack thereof. Now the question arises, did Romney do so well on Wednesday because he used a forbidden cheat sheet? Or was it a hanky?
The most quote-worthy moment from the debate may have been when Romney laid out his plan to end funding to PBS and Big Bird. Conan O'Brien has visualized what it would look like if Romney indeed snuffs out Big Bird. 
Romney's plan in the debate seemed to be to distance himself from anything he has ever said, that plan continued when he appeared on Hannity last night and was asked about his "47 percent" comments. 
**
MARRIAGE EQUALITY
Baltimore Ravens center Matt Birk has made it clear this week that he is very much against gay marriage, unlike one of his teammates. Well now he has appeared in a rather offensive video for the Maryland Marriage Alliance. Take a look if you want to be sick. 
Two more stories to make you angry. A San Francisco Episcopal Bishop who opposed Prop 8 isn't being treated with much respect from the Catholic Church. No surprise I guess. Also, conservative  Justice Scalia says gay rights cases are easy for him to decide. Not a shock either. 
**
ENTERTAINMENT
Zac Efron sat down with Jimmy Kimmel last night to promote The Paperboy and discuss how he spent most of the movie in his underwear. Also take a sneak peek at the upcoming season of American Horror Story!
Two moments to celebrate today. First TV Meteorologist Sam Champion is gay and engaged!. And Tom Ford and his partner Richard Buckley welcome a baby boy!
**
VIDEO OF THE DAY
The Former Fat Boys have a raunchy Chick-fil-A tribute song out. It's funny and all proceeds go to The Trevor Project. 
**
SPECIAL ANNOUNCEMENT
I will be taking a trip down to DC this weekend to attend the HRC National Dinner, where my mother Sally Field is being honored. I have to introduce her in front of a whole bunch of people which is rather terrifying, but I am planning a report on the evening for Towleroad so keep an eye out for that next week!