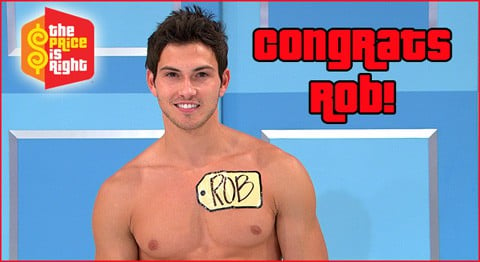 The Price is Right announced today on its program that actor and model Rob Wilson was chosen from hundreds of entrants as its first male model:
Hundreds of hopefuls showed up to an open call for male models in Los Angeles on August 30 and had a chance to show off for the show's producers and female models.  The field was narrowed down to 26, who then competed in a series of challenges that aired on priceisright.com.  The hopefuls were put through their paces, including writing and singing original lyrics to the show's iconic theme music, showing their excitement as they were each called to "come on down" and experiencing the frantic pace of a costume change.  When the dust settled, Wilson, Clint Brink and Nick Denbeigh were named as finalists, with fans voting online for their choice from Sept. 28 – Oct. 4.
No word on whether Rob, whose bio and video are here, will be collecting the Plinko chips with or without a shirt.