PHOTO OF THE DAY: Bayonets and Horses becomes the new "binders full of women" after Obama's zinger last night. 
BY SAM GREISMAN
A look back at today's top stories
ELECTION 2012
Mitt Romney and Barack Obama met for their final debate of the election season focused, supposedly, on foreign policy. It was another strong performance for the President as the snap polls from last night indicated. How much a debate about foreign policy will affect the polls overall is yet to be seen. The race may come down to the state of Ohio, where Obama has a slim lead according to recent polling. Nate Silver of The New York Times takes a look at Romney's chances if that lead holds. 
The Log Cabin Republicans announced today that they are endorsing Romney for President and Barney Frank immediately laid into them. Speaking of people that cause blood to boil, Ann Coulter once again proved that she can offend everyone and show her own stupidity in less than 140 characters. And speaking of bullies, Vanity Fair cooks up some imaginary photos from Romney's past.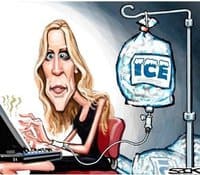 **
ENTERTAINMENT
Ellen DeGeneres became just the fourth woman to receive the Mark Twain Prize for Comedy at the Kennedy Center last night. Go Ellen! Everyone's favorite primetime gay couple were together this weekend and Mitchell had a surprise for Cam. 
Also check out the first trailer for Iron Man 3 here!
**
GAY RIGHTS
Two good pieces of news involving marriage equality today. In New York the state's highest court rejected a challenge from a conservative evangelical group. And in Washington State, Bill Gates has donated a whole ton of money to the proponents of the pro-marriage equality Referendum 74. 
**
VIDEO OF THE DAY
If you're taking a stroll in Central Park sometime soon and you see a bush that looks like a person, don't worry it's just this dude.