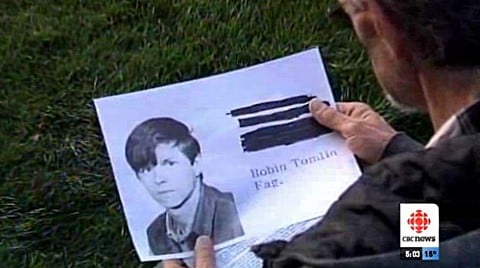 A Vancouver-area high school has sent a letter of apology and promised a face-to-face one to a man taunted by a printed anti-gay slur for 42 years, the CBC reports:
"I am writing to formally provide you with a sincere apology on behalf of the entire North Vancouver School District," says a letter sent to Robin Tomlin on Oct. 4 and signed by John Lewis, the district's superintendent of schools.
Tomlin says he's been haunted for years after his high school yearbook committee printed the word "fag" next to his picture in the 1970 Argyle Secondary School yearbook.
Tomlin isn't gay, but he says the slur stuck and he was badly bullied in school. He says he was even too afraid to go to his school prom for fear of being beaten up and eventually moved out of the area to start a new life.
"Well it made me feel like the whole school thought that," he said.
Watch the CBC's report, AFTER THE JUMP…