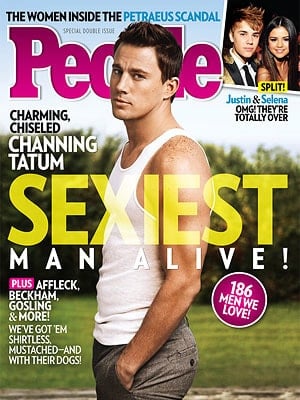 Channing Tatum is People's Sexiest Man Alive for 2012:
"My first thought was, 'Y'all are messing with me,'" says Tatum, who married actress Jenna Dewan-Tatum in 2009. "I told Jenna after we'd been in the bathtub washing our dogs because they'd gotten skunked."
Currently training to play an Olympic athlete in next year's Foxcatcher, Tatum is all heart and muscle at 195 pounds. "I like to be lean. If I get too bulky I can't move well and I like to move," he says. "When I'm not training, I get really round and soft."
Which is just fine by his wife. "People know him to be fun and sexy, but they don't know how emotionally deep and spiritually open he is," says Dewan-Tatum, 31. "He is such an open-hearted person; what you see is what you get."
Since I know everyone's been mulling their choices while waiting with bated breath for this announcement, who would you pick as the sexiest man alive?