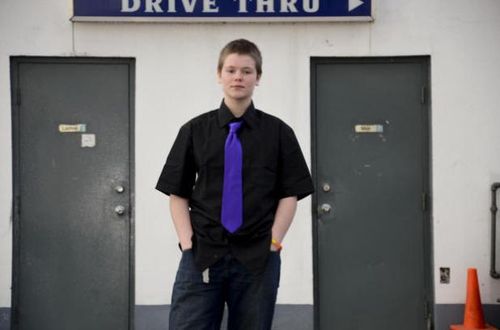 James Spencer, a transgender student at Clarke High School in Durham Region, Ontario, can't use the men's room at his school despite going through the demeaning chore of collecting signatures from half the student body, Metro News Canada reports:
He's been granted access to the women's washroom and a private washroom that needs a key from the main office — neither of which work for him.
"I thought, 'They're figuring it out, it's temporary,' but as time went on they're portraying the message that transgender people are wrong and they need to be segregated. And I don't sit well with that," said Spencer.
Spencer was born Samantha De Graauw. He began transitioning in Grade 10 while at school in Cobourg. Then the rumours and bullying started. He moved in with his sister and enrolled at the new school in Clarington as James Spencer. Sex? Male.
During his first week and a half, he said he was asked to go to the bathroom at a Harvey's beside the school while the administration found a solution. Officials deny sending the student off-site.
Spencer awaits a solution.