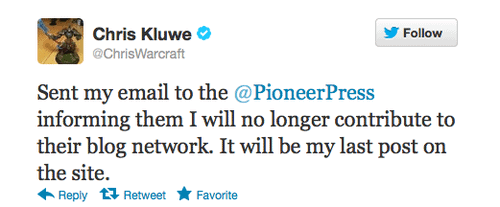 Chris Kluwe, the uber-gay friendly Minnesota Vikings punter, this weekend left his freelance post at the St. Paul Pioneer Press over that paper's editorial board's op-ed supporting an amendment to the state constitution that would define marriage as one man, one woman.
From that op-ed:
Love may be love, but even now there are any number of prohibitions around marriage between consenting (heterosexual) adults. These prohibitions are intended to be in the interest of promoting the general welfare. It all comes back to the initial question of the definition of marriage as a means of promoting the general welfare.
Obviously Kluwe cannot support such a publication, so he took to Twitter to explain his resignation and to tell the paper exactly how he feels about it. Read the stream of Twitter consciousness AFTER THE JUMP.