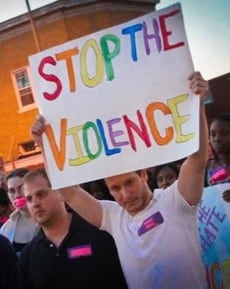 Washington DC's police department recorded 51 anti-LGBT attacks between the beginning of the year and October, down just two from 2011. That includes the three separate attacks in Columbia Heights last March.
The consistency in these numbers highlights what some critics say are inefficiencies in the department's gay and lesbian liaison unit and tensions between activists and the police themselves.
From the New York Times:
…Some leaders in the city's gay, lesbian, bisexual and transgender population have been vocal about their frustration with Chief Cathy L. Lanier, saying that changes she brought to a police unit known as the Gay and Lesbian Liaison Unit have hindered the city's response.

At times, the frustration has been mutual. Chief Lanier says the department has been doing everything in its power to stem the violence, going so far as to seek an outside review of the department's procedures that have been the subject of criticism. The results of that review are expected late this year or in early 2013.

"We feel like everything that we can do, we're doing, and yet we get these complaints back from some of the advocates," she said.
One of the most controversial of Lanier's changes was the redistribution of about 100 LGBT liaisons throughout the city, rather than concentrating them in more gay-concentrated areas.
"The events of 2011, the intense violence, really showed that the
restructuring had failed to create any kind of meaningful reaction and
response," DC Trans Coalition volunteer Jason A. Terry told the paper.