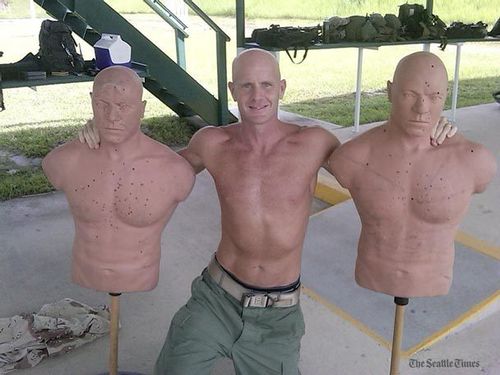 Some facts: Frederick W. Humphries is the FBI agent to whom Jill Kelley turned after Paula Broadwell, the biographer with whom David Petraeus has admitted an affair, sent her threatening letters. Humphries began the investigation but was dismissed after the bureau found out he sent the above picture to Kelley.
Many assumed this picture was indicative of yet another romantic twist in the case, but Humphries says he sent the picture to dozens of friends, and that it was simply a "tongue-in-cheek joke," the Seattle Times reports. The caption to the picture, which features Humphries between two SWAT training dummies, read "Which one's Fred?" Now we know.
Kelley was not and is not his mistress, says Humphries. She was just another name in his address book.
The paper has more on Kelley's involvement in the Patraeus scandal:
Humphries took Kelley's concerns to the FBI cybercrime division, but
later was worried that the FBI was dragging its feet — possibly for
political reasons — and took his worries to U.S. Rep. Dave Reichert.

…

Reichert, R-Auburn, took Humphries' concerns to House Majority Leader
Eric Cantor, who took the message to FBI Director Robert Mueller.
Congressional leaders have since complained that they weren't told about
the probe until Petraeus resigned three days after the election.
The paper also noted, "Among his friends and associates, Humphries was known to send dumb-joke
emails in which the punch line was provided by opening an attached
photo."