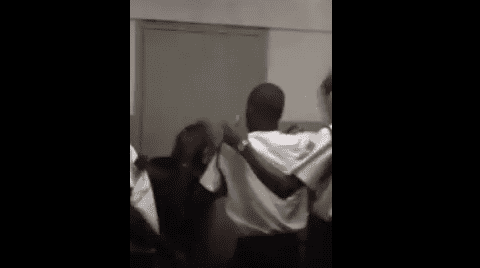 Here's a Jamaican Horror Story all too familiar: Two unidentified men were caught having sex at University of Technology Jamaica last night and were subsequently beaten by an angry mob, including the school's security guards. The gathered crowd just eggs them on. While one of the men managed to escape, while the other was arrested and then released to his parents, who were told he needed urgent medical care.
I've included video of the attack AFTER THE JUMP.
Jamaican journalist Dionne Jackson Miller took to Facebook to not only express her disgust and sadness over the attack, but to deride people for continuously turning a blind eye to homophobia.
"[I] continue to wonder at my friends with their heads deep in the sand insisting that we are not a homophobic society. Really?," she writes. "This has nothing to do with approval of or belief in a lifestyle. This is about a society that winks at barbarism and turns its head away insisting it is not happening, apparently all the reports of abuse are made up!!! And you wonder why we are seen as homophobic?"
The police and religious right often try to cover up hate crimes by claiming the incidents are gay-on-gay violence. The video AFTER THE JUMP shows that's clearly not the case.