Kevin James, a gay Republican former prosecutor who is running for mayor of Los Angeles and has been struggling to get his messaging out may get some help from a wealthy GOP donor, the L.A. Times reports: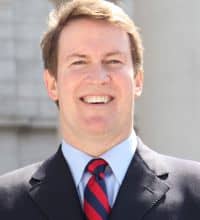 Fred Davis, a GOP advertising man who has worked on campaigns for Gov. Arnold Schwarzenegger, U.S. Senate hopeful Carly Fiorina and former President George W. Bush, said the Better Way LA committee has raised nearly $500,000 on behalf of James and plans to collect at least $3.5 million more.
The PAC is the first outside committee to form on behalf of a mayoral candidate in the March 5 election. Davis, who lives in Hollywood, said a victory for James, a former prosecutor who is both gay and Republican, could ignite a "rebirth" of the GOP in California, where Democrats hold two-thirds of the seats in the Legislature, and Republican voter registration has fallen below 30%.
L.A. campaign finance rules limit candidates from receiving more than $1,300 from a single donor but Super PACs can spend as much as they want.
Davis said he would even the playing field by putting the blame for the city's financial crisis on the other three leading candidates — City Controller Wendy Greuel and City Council members Eric Garcetti and Jan Perry — and identifying James as "the only one capable" of fixing the city.
"He's the only one of the four who wasn't part of the problem," said Davis, chairman of Better Way LA, which filed formation papers with the city Ethics Commission last week.