A UK bus driver left passengers waiting for 20 minutes after refusing to drive a bus because it had an ad from LGBT rights group Stonewall on it that read "Some People are Gay. Get Over It," the Daily Mail reports: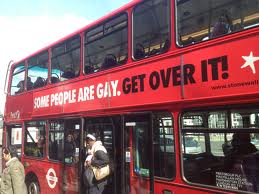 Among those on the bus was Rebecca Neill, 25, from Herringthorpe, South Yorkshire, who had boarded the 5.25pm service at Rotherham and had just taken her seat when the commotion began.
'Once the driver had let us on the bus, he was meant to be swapping with another driver, but when his replacement wouldn't get on they just left us there while they had an argument outside,' she said.
'There were quite a few passengers arguing with him and several drivers as well. Someone was shouting at him: "You can't do that, it's disgusting. Then another driver got on and explained what was going on. He apologised and said that the poster wasn't acceptable to this Christian, but that he didn't agree with what the guy was doing. 'I just thought it was disgusting. I would never say: 'I'm not getting on your bus because you believe in God and I don't.' He's a bus driver — he's going to come across all sorts of people. Does he seriously think he has never had a gay person on his bus? I think it's wrong that he can cause such a fuss while people are trying to go places."
Said the bus company: 'We are aware of an incident involving one of our drivers refusing to drive a bus at Rotherham Interchange. We have spoken to the driver in question and the matter has now been resolved. We would like to apologise to any customers that were affected during this isolated incident.'