Lambda Legal and the ACLU visited the Illinois capitol in Springfield today with 10 gay and lesbian couples to lobby lawmakers on marriage equality, Lambda reports: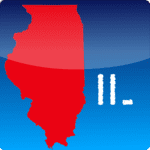 Today plaintiff couples in Darby v. Orr and Lazaro v. Orr, the lawsuits brought by Lambda Legal and the ACLU of Illinois seeking the freedom to marry for same-sex couples in Illinois, met with legislators to urge them to vote in favor of a bill ending the ban on marriage for same-sex couples in Illinois.  The bill, House Bill 5710, The Religious Freedom and Marriage Fairness Act, could be voted on by the Illinois General Assembly in January 2013.
The couples filed lawsuits challenging the state's ban on same-sex marriage in May. The Cook County State's Attorney office backed their challenge shortly thereafter.
According to a poll released in September, support for marriage equality has seen a 10-point increase in Illinois in just two years.
Earlier this month, Chicago Mayor Rahm Emanuel said "the time is now" for marriage equality, calling it one of his top priorities.