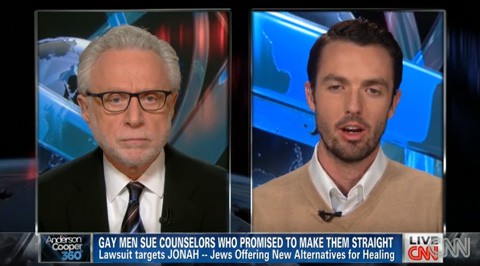 Four gay men sued the NJ "ex-gay" organization JONAH (Jews Offering New Alternatives to Healing) yesterday, the AP reports:
Three of the men at the news conference are Jewish, and the fourth is a Mormon now living in Salt Lake City who was a college student in New York when he signed up for the services.
Speaking for the men at Tuesday's news conference were attorneys from the Southern Poverty Law Center, a Montgomery, Ala.-based civil rights organization.
"JONAH profits off of shameful and dangerous attempts to fix something that isn't broken," said Christine P. Sun, the center's deputy legal director. "Despite the consensus of mainstream professional organizations that conversion therapy doesn't work, this racket continues to scam vulnerable gay men and lesbians out of thousands of dollars and inflicts significant harm on them."
CNN adds: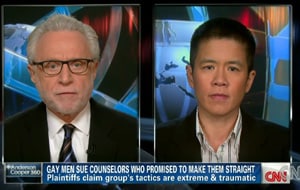 Bruck and three male plaintiffs contend they were defrauded by JONAH's claim that "being gay is a mental disorder" that could be reversed by conversion therapy — "a position rejected by the American Psychiatric Association four decades ago," the lawsuit said.
The therapy, which can cost up to $10,000 a year, put them at risk of "depression, anxiety and self-destructive behavior," while giving them no benefits, the suit said.
Jo Bruck, Sheldon's mother, and Bella Levin, the mother of plaintiff Chaim Levin, are also plaintiffs because they paid for their sons' conversion therapy and the counseling the suit said they needed to recover from it.
The conversion therapy techniques included having them strip naked in group sessions, cuddling and intimate holding of others of the same-sex, violently beating an effigy of their mothers with a tennis racket, visiting bath houses "in order to be nude with father figures," and being "subjected to ridicule as 'faggots' and 'homos' in mock locker room scenarios," the suit said.
Watch CNN speak with plaintiff Michael Ferguson and SPLC's Sun, AFTER THE JUMP…