Good news from Missouri, where the St. Louis County Council has passed LGBT non-discrimination protections: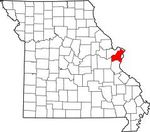 An overflow crowd of more than 250 people spilled out of the council chambers in Clayton; 92 of them signed up to address the council, and most took advantage of that opportunity in a public comments segment that lasted more than two hours.
And as could be expected on an issue that involved religion and civil rights, most of them spoke fervently.
The ordinance adds protections for people in employment, housing and public accommodations in unincorporated areas, regardless of their sexual orientation. It also expands protections on the basis of gender and disability.
The bill passed 4-3 and includes exemptions for religious organizations.