Kevin Clash, the voice of Sesame Street's Elmo for the past 28 years, has taken a leave of absence amid accusations he had an inappropriate relationship with an underage teen when the teen was 16 and Clash was 45.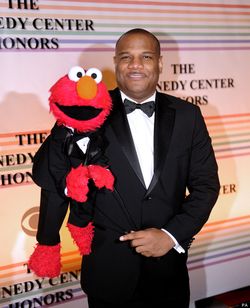 CNN reports:
In June, the workshop heard from a 23-year-old man who claimed that he had "a relationship" with Clash beginning when he was 16 years old, the workshop said in a written statement.
The statement did not use the word "sexual."
"We took the allegation very seriously and took immediate action. We met with the accuser twice and had repeated communications with him. We met with Kevin, who denied the accusation. We also conducted a thorough investigation and found the allegation of underage conduct to be unsubstantiated. Although this was a personal relationship unrelated to the workplace, our investigation did reveal that Kevin exercised poor judgment and violated company policy regarding internet usage and he was disciplined," the Sesame Street Workshop statement said.
"Kevin insists that the allegation of underage conduct is false and defamatory and he is taking actions to protect his reputation. We have granted him a leave of absence to do so.
Clash released a statement yesterday:
"I am a gay man. I have never been ashamed of this or tried to hide it, but felt it was a personal and private matter. I had a relationship with the accuser. It was between two consenting adults and I am deeply saddened that he is trying to characterize it as something other than what it was. I am taking a break from Sesame Workshop to deal with this false and defamatory allegation."
TMZ also reports on an email exchange between Clash and his accuser:
In the email — sent well after the accuser turned 18 — Clash writes, "I'm sorry that I keep talking about sex with you, its driving me insane." He adds, "I want you to know that I love you and I will never hurt you. I'm here to protect you and make sure your dreams come true."
Clash continued, "I'll have my assistant book a ticket for you to come to NY and we can talk about this in person."
As we previously reported, Clash has acknowledged having a sexual relationship with the accuser but insists it only took place AFTER the accuser was an adult.