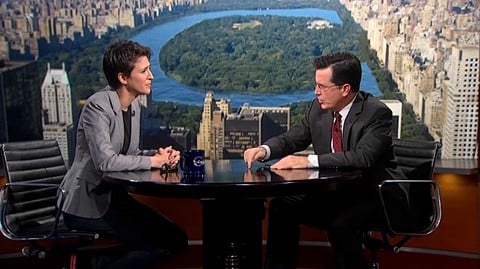 Stephen Colbert asks Rachel Maddow why FOX News seemed more freaked out by Obama's win than MSNBC seemed elated.
Says Maddow: "I think the difference between the two sides is that the Right talked themselves into the idea that it was going to be a Romney landslide based on – I don't know. Gut. Feelings. Karl Rove was saying, 'Yes I see the polls but I also see the enthusiastic crowds and based on the enthusiastic crowds I'm sure that Romney is going to win.' Turned out it was a bad way to predict the election."
The two hosts also discuss the relationship between gay people and hurricanes.
Watch, AFTER THE JUMP…