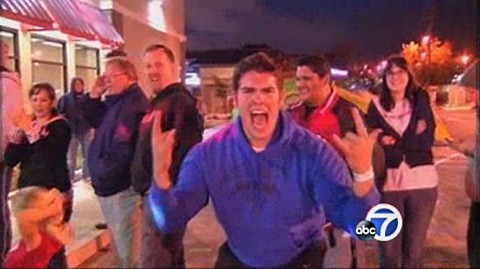 More than 100 people camped overnight in Walnut Creek, California for the opening of a Chick-fil-A, including one superfan (below) who said it was the 27th time she'd traveled to the opening of a hate chikin shop.
Watch the insanity, AFTER THE JUMP…
Meanwhile, a small group of protesters showed up to try and counteract the mania:
Brent Allen already had a line out the door – more than 100 people camped overnight in a parking lot in Walnut Creek for his chicken sandwiches – so he just had to wonder how many protesters would show up Thursday.
Allen, the owner-operator of the first Chick-fil-A in the central Bay Area, was greeted by about a dozen sidewalk protesters who were angered by the fast-food chain CEO's opposition to same-sex marriage.
"I don't feel like they're here for me," said Allen, who delivered boxes of bottled water to picketers. "My sole goal is to run a business and serve delicious food. I'm here to treat and serve everyone with dignity and respect."