Malawi suspended its anti-gay laws on Monday amid debate about whether they should be repealed over human rights backlash that has left the country without some of its financial support, Reuters reports: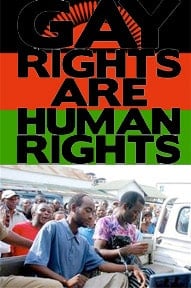 Homosexuality is banned in Malawi – as it is in 36 other African states – and carries a maximum sentence of 14 years, but Justice Minister Ralph Kasambara said he wanted debate on the issue before parliament decided whether to keep the laws or not.
"If we continue arresting and prosecuting people based on the said laws and later such laws are found to be unconstitutional it would be an embarrassment to government," he told Reuters.
"It is better to let one criminal get away with it rather than throw a lot of innocent people in jail."
Malawi Today adds:
Kasambara, who is also Attorney General, said government wants to encourage debate and decide on whether laws against same- sex relationships should continue to be criminalized.
"There is a moratorium on all such laws, meaning that police will not arrest or prosecute anyone based on these laws. These laws will not be enforced until the time that Parliament makes a decision," he said.
In legal parlance, a moratorium is used when the Executive arm of government, which is mandated to enforce laws, decides to temporarily suspend enforcement of a legislation, especially when it raises controversies that require its review.