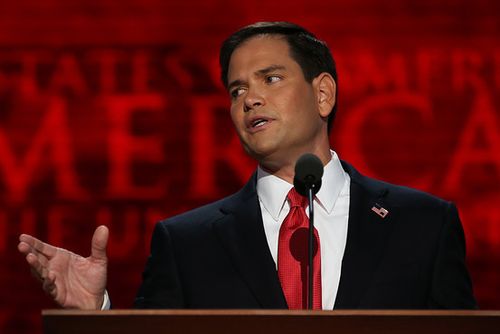 Florida Sen. Marco Rubio, a man who has consistently sided with hate, is lending his voice to the National Organization for Marriage's war on equality in the four states voting on the matter next week, Minnesota, Maine, Washington and Maryland.
As Chris Johnson at the Washington Blade reports, though, neither Rubio nor NOM seem keen on making audio available for those of us outside of those states:
The National Organization for Marriage, one of the major groups
opposing marriage equality, included Rubio in a press release as among
those making calls against same-sex marriage along with former Arkansas
Gov. Mike Huckabee and Focus on the Family co-founder James Dobson.

According to NOM, calls will be made in both English and Spanish and
will target voters "across the political spectrum who favor retaining
the definition of marriage" as one man, one woman. NOM said a recording
of the calls wasn't available upon request from the Washington Blade,
and Rubio's office didn't respond to a request for comment on the
senator's participation.
Fred Sainz from HRC predicted that the ads "will be full of the last minute lies that NOM trots out during every campaign".
"It's their stock in trade," he said. "But we're confident that fair-minded
Americans will reject the messages." We'll know soon enough!