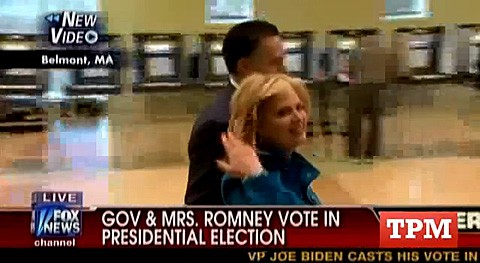 Mitt and Ann Romney voted this morning in Belmont, Massachusetts.
ABC News reports:
They arriving at their polling station just before 9 a.m. As they left, Romney was asked who he voted for.
"I think you know," he responded.
Romney will travel today to Ohio and Pennsylvania for last-minute campaign stops while Mrs. Romney hangs back in Boston.
Asked about his chances in the crucial Buckeye State, Romney said,"I feel great about Ohio."
Watch, AFTER THE JUMP…
Please join us at 6:30 tonight for an election liveblog.