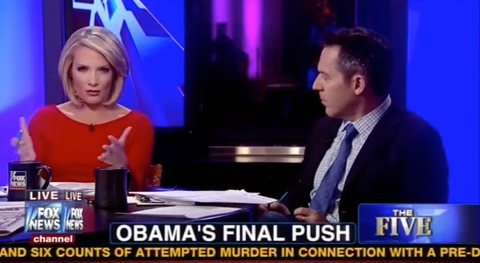 This is the level of conversation FOX News has been sinking to in the final days. Here's Greg Gutfeld, and Dana Perino, who is the former Press Secretary for President George W. Bush, talking about yesterday's Obama rally, at which Bruce Springsteen and Jay-Z appeared.
Gutfeld: "He seems to be saying 'yeah I'm a lousy president but I'm still cooler than the other guy. look at these brainless celebrities I'm talking to' while the other guy talks policy…Never trust a man over 50 who still has an earring. The people who Obama surrounds himself with – Bruce Springsteen, John Cougar Mellencamp – they dress like aging pirates. They think they're outlaws. They're protracted adolescents with heart valve problems."
Perino: "It's like watching a male enhancement pill ad…. [And] Jay-Z, his lyrics. Talk about the 'war on women'. Rhymes with 'witches and does'. It's basically what he's promoting."
Watch, AFTER THE JUMP…