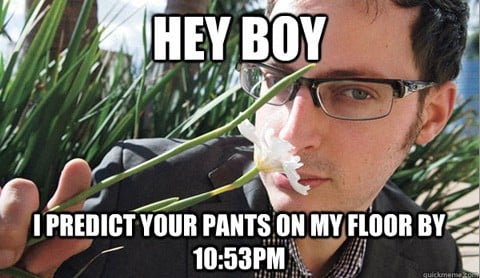 Apparently a lot of people are very turned on by Nate Silver's talent with numbers.
Seductive Nate Silver has hit the meme factory.
And in the New Yorker, Paul Rudnick pens a hilarious letter from Silver's "No. 1 fan", 11-year-old Emma Gertlowitz:
See, I think that because you predicted the election with near-100% accuracy Matt Bomer is way more likely to go out with you than with Dick Morris, who predicted a Romney landslide, or with Karl Rove, who kept predicting that Ohio was still in play a week after the election was over. In fact, right now I bet that you could get anyone to go out with you just by saying something like "I predicted Florida, North Carolina, and Illinois, and now I'm predicting that you'll have dinner with me." I know that you can also predict the careers of baseball players and that you made a ton of money playing online poker, all of which makes you really cool because you can gamble and do sports without leaving your room; you're like James Bond in saggy sweatpants whose pockets are filled with wadded-up Kleenex.
I know that you're too old for me and that if we actually met you'd probably be really nice and say something like "I predict that someday you'll meet a boy who's 100% right for you," and then I would tell you my secret, that I was totally crushing on this geeky anorexic goth boy but he turned out to be Ann Coulter. So maybe I should just keep fantasizing about you, because statisticians are the new sexy vampires, only even more pasty. I just hope that tonight I can dream that the next time you're on "Rachel Maddow" you'll look right into the camera and say, "I can predict that Hillary will win Nevada in 2016, and that Emma Gertlowitz will at least get wait-listed for Brown."