The Human Rights Campaign reports that the National Organization for Marriage saw its fundraising decline by a third in 2011 (from $6.2 million from the $9.1 million in 2010). More interesting to note is the fact that the bulk of the money it raised was from two individual donors, who each put up $2.4 million.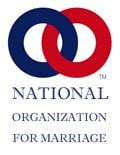 HRC requested NOM's 2011 990 in person at the organization's offices this morning.
They add:
"The National Organization for Marriage continues to push the notion that there is some sort of grassroots support for their discriminatory anti-gay agenda," said HRC Vice President of Communications Fred Sainz. "Last week, that notion was soundly rejected by voters in Maine, Maryland, Minnesota, and Washington State. Now, NOM's own financial records are serving as the latest proof that support for LGBT equality is common-sense and mainstream. NOM is nothing more than a conduit channeling the anti-gay agenda of a few secretive, wealthy donors."
The sharp drop in funding is notable also because NOM experienced significant financial growth each year since its founding in 2007, when it was formed to demonize LGBT people in California as part of efforts to pass Proposition 8. 2011 marks the first year in which the anti-gay group's funding declined.
More at HRC.