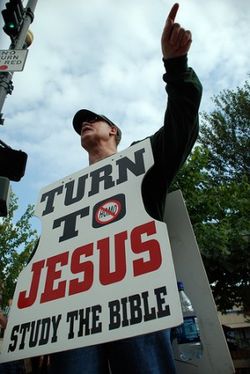 New York Times reporter Laurie Goldstein today looks at how the religious right, once the predominant force in Amerian politics, has reached its end days:
Christian conservatives, for more than two decades a pivotal force in
American politics, are grappling with Election Day results that
repudiated their influence and suggested that the cultural tide —
especially on gay issues — has shifted against them.

They are reeling not only from the loss of the presidency, but from what many of them see as a rejection of their agenda. They lost fights against same-sex marriage in all four states where it was on the ballot, and saw anti-abortion-rights Senate candidates defeated and two states vote to legalize marijuana for recreational use.
Not all of the religious right's warriors of course are prepared to go silently into the night. Bob Vander Plaats, the perennial election loser who led the fight against pro-equality Iowa Supreme Court justices, told the paper, "We're not going away, we just need to recalibrate." That's going to be quite the transition.