New reports on Ugandan parliamentary activity regarding the "kill the gays" bill  contradict earlier media reports and State Department remarks that the bill had passed a key committee, the Washington Blade reports: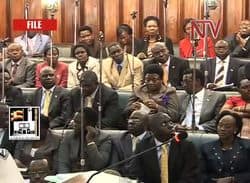 In an email to the Washington Blade on Tuesday, an informed source at the U.S. Embassy in Kampala said the bill is still in committee. That contradicts media reports on the bill — which imposes a penalty of life in prison for homosexual acts — that indicated the Legal & Parliamentary Affairs Committee had reported out the bill last week.
Additionally, the embassy source, who asked not to be named, said that the committee can only compile a report on the bill for recommendations to the bill, and can't make changes to it, such as removing the death penalty provision for "aggravated homosexuality," which media sources reported has been removed. An earlier version of the bill defined "aggravated homosexuality" as someone with HIV engaging in homosexual acts, having homosexual sex with a minor or the repeated offense of homosexuality.
More at the Blade…