An Arizona man has filed paperwork with the intention of putting marriage equality on the state's ballot, the Daily Sun reports: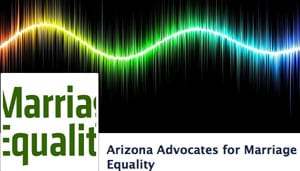 Tanner Pritts has formed Arizona Advocates for Marriage Equality. But he also has filed the necessary paperwork with the Secretary of State's Office to allow him to start raising money for a 2014 campaign.
Pritts conceded to Capitol Media Services he is a political novice at ballot measures. In fact, the Scottsdale resident said he is just 22.
The initiative drive, if successful, would put the issue back on the ballot just six years after Arizonans voted by a 56-44 margin to define marriage in the state constitution as solely between one man and one woman. But Pritts said he is heartened by the results of elections elsewhere.
Pritt says he understands the challenges that lie ahead for him:
At this point, Pritts said he is just reaching out to other gay rights organizations in Arizona in hopes of raising some money to put the issue on the 2014 ballot. He would need more than a quarter million valid signatures by July of that year just to qualify. And no measure has made the ballot in years without the use of paid circulators.