Scientists excited, cautious about possible "big news" from Mars.

Film floats theory that serial killer, not OJ, killed Nicole Brown, Ron Goldman.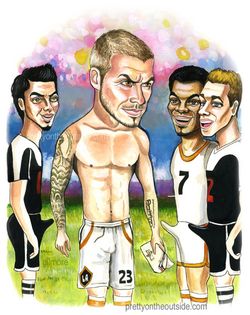 David Beckham is leaving the L.A. Galaxy. Image via Pretty on the Outside.

Can you tell? Austin, Texas woman has drunk moment immortalized on the news.

LSU coach Les Miles to fans: "Spectacular group of men. You go find them, you throw your arms around them and you give them a big kiss on the mouth… if you're a girl."

Anderson Cooper puts a vanilla flan-making Twitter user in her place.

Will Pennsylvania get marriage equality any time soon? Not likely.

Hillary Clinton, Obama wax nostalgic: "On the flight back from Rangoon to Cambodia, they spent basically the entire flight alone in his personal office on Air Force One just reminiscing about the last four years, but as the president said, it wasn't just the last four years, they've been through a lot together over the last five or six years and, in fact, unqiue among people they've been at this working as hard as they can for five or six years now." Clinton to Middle East…

Massive explosion in Indiana which leveled neighborhood now a homicide investigation.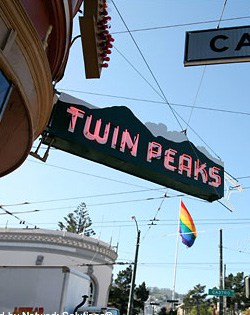 SF Castro landmark

Twin Peaks Tavern to get historical designation?

California men charged in plot to join al-Qaeda, carry out attacks: "In one online conversation, Santana told an FBI undercover agent he wanted to commit jihad and expressed interest in a jihadist training camp in Jalalabad, Afghanistan. The complaint alleged the men went to a shooting range several times, including a trip on 10 September 2012 when Deleon told a confidential FBI source he wanted to be on the frontlines overseas and use the explosive C-4 in an attack."

Truth Wins Out: Shocking cult murder puts spotlight on International House of Prayer.

Colin Farrell works a new haircut on the Winter's Tale set.

Gay athlete who attempted suicide speaks out: "I had no confidence to go back on once I got to college and realized once and for all I was gay," James said. "I had a lot of self-hatred. It's hard to have a lot of swagger when you hate yourself."

Daniel Craig visits troops in Afghanistan.

Darren Criss and Chris Colfer film Bryant Park ice skating scene for Glee.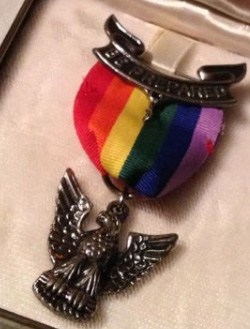 How to gay hack your Eagle Scout Award.

Hobbit filmmakers deny PETA charges about animal deaths: "The producers completely reject the accusations that twenty seven animals died due to mistreatment during the making of the films. Extraordinary measures were taken to make sure that animals were not used during action sequences or any other sequence that might create undue stress for the animals involved."

VIDEO: Ellie Goulding's "Figure 8".

Scientists discover planet 13 times the size of Jupiter: "The planet orbits a star called Kappa Andromedae that is 2.5 times the mass of the sun and is located 170 light-years away from Earth. As a gas giant larger than Jupiter, it's classified as a 'super-Jupiter.' The object is an interesting test case for theories of planet formation, scientists say. Based on observations of this system, the super Jupiter appears to have formed in the same way ordinary, lower-mass exoplanets do, by coalescing from a 'protoplanetary disk' of material orbiting a nascent star."