Protect Marriage Maine, the group fighting stop marriage equality and Question 1, posted something really ugly on its website yesterday, a sort of final argument for their campaign, Jeremy Hooper at Good As You points out.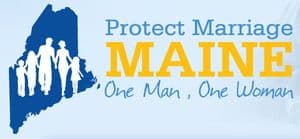 Reeks of lies and desperation:
Homosexuality is highly promiscuous. To accept homosexuality as the social, moral, or religious equivalent of heterosexuality would constitute the first modern assault on the extremely hard-won, millennia-old battle for a family-based sexually monogamous society – precisely because the homosexual lifestyle is highly promiscuous. The basis of homosexuality is centered around anonymous sexual encounters. Long term relationships are very rare. "Sexual promiscuity is one of the most striking distinguishing features of homosexual life in America," write Silverstein and White in their book, The Joy of Gay Sex. A study of homosexual and bisexual men published in the Journal of Sex Research found that homosexual men had an AVERAGE of 755 partners over their lifetime. Some had thousands of partners. (Journal of Sex Research, 28, 3-274.) Another study of 2,583 homosexuals found that among the older men, "the modal range for number of male sexual partners in a lifetime was 101 to 500." Between 10.2 percent and 15.7 percent had greater than 1,000 sexual partners. (Journal of Sex Research, 34, 349-360.) 79% of homosexuals said more than half of their sex "partners" were anonymous strangers. Only 1% had fewer than 5 lifetime partners. As a result, serial homosexuality has as its most visible consequence AIDS, among various venereal diseases. But another social problem is that it is largely predatory. Part of the thrill, part of the challenge, is having sex with the inexperienced, the uninitiated, and to dare say that out loud, even though it is true, is to risk being called "intolerant", "homophobic", or worse. The dark secret of homosexual society is how many homosexuals first entered into that world through a disturbing seduction or rape or molestation or abuse, and how many of them yearn to get out of the homosexual community and live normally.
The post was scrubbed after it started getting attention.
Click HERE to read the cached version.