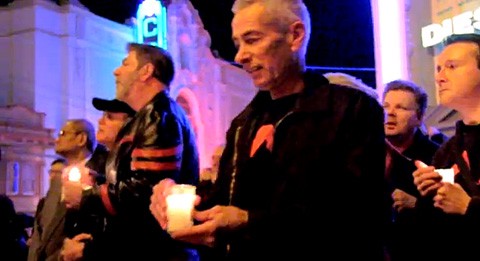 As many of you know, yesterday was the anniversary of Harvey Milk's assassination 34 years ago. Last night there was a candelit vigil to mark it in San Francisco's Castro district. Activist and videographer Sean Chapin sent along a touching video about his legacy.
Chapin writes:
The video follows an original chorus member (Robert Rufo) who was at the chorus' first-ever public appearance, which was at the candlelight vigil on the steps of City Hall the night when Harvey Milk was assassinated.  Robert Rufo remembers what it was like that night, and how the chorus has been living the legacy of Harvey Milk since then over the last 34 years.  The video shows Robert Rufo and the SF Gay Men's Chorus sining at the 34th anniversary memorial service and marching with candles to the Castro. 
Speakers at the memorial service last night included Supervisor Scott Weiner, Harvey Milk's campaign manager Anne Kronenberg, Mayor Ed Lee, former Mayor Willie Brown, George Moscone's son Jonathan Moscone, California State Assemblymember Tom Ammiano, Supervisor David Campos and Harvey Milk's nephew Stuart Milk.  The song/recording in the video is "Thou Lord Our Refuge", which the chorus sung that night at City Hall when Harvey Milk left us in 1978, as re-arranged by chorus member Edwin Morales and performed earlier this year in 2012.  The chorus in June 2013 will be premiering a landmark concert called Harvey Milk 2013, Living The Legacy.
Watch, AFTER THE JUMP…