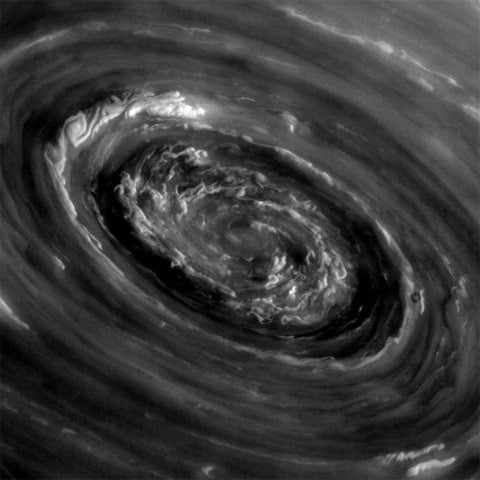 Hurricane Sandy has nothing on this:
This image, captured on 27 November by NASA's Cassini spacecraft, stares into the storm's sinister eye from 361,000 kilometres away. The spacecraft observed in infrared wavelengths, which can peer through the top layer of clouds to reveal the complex texture beneath.
In 2007, the Cassini team saw a huge hexagon-shaped structure about 25,000 kilometres across stretching over Saturn's north pole. But the planet was in the depths of its 15-year-long winter, when sunlight does not fall on the pole, and it was too dark to see what lurked within the structure. Spring lifted the gloom in 2009, and now the team has spotted this vast storm at the hexagon's core.
Check out a photo shot from further out, AFTER THE JUMP…