Gay couples can begin marrying in Washington state beginning on December 9 and Dan Savage offers up the news that Seattle Mayor Mike McGinn is helping The Stranger turn City Hall's lobby into a giant wedding chapel: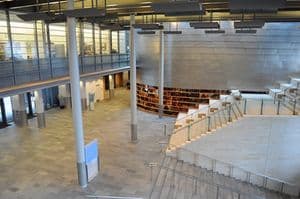 Same-sex couples can start applying for marriage licenses in Washington state starting on December 6, and—because there's a three-day waiting period to get married here—same-sex couples will start getting legally married in Washington on Sunday, December 9. (Eli Sanders runs you through the logistical details here.)
Mayor Mike McGinn is opening Seattle City Hall's gorgeous lobby to all couples who want to marry on December 9. Judges have volunteered to perform weddings for free and the Stranger is working with Jennifer Zeyl and Alicia Berger and other local scenic artists to create four tasteful pop-up wedding chapels in the lobby of City Hall. The doors at City Hall will open at 11 AM on December 9 and any couple who comes with their paperwork will be able to get married at City Hall between noon and 5 PM.
The Stranger is kicking in $2000 to help pay for materials and Stranger staff members—many of whom worked phone banks for R-74—are volunteering their time to help organize the event.