James Dobson: National Day of Prayer Task Force prayed for Obama defeat.

Signorile: How gay Republicans lost dismally when 2012 should have been their year.

Farthest known galaxy in the universe discovered: "The new record holder is the galaxy MACS0647-JD, which is about 13.3 billion light-years away. The universe itself is only 13.7 billion years old, so this galaxy's light has been traveling toward us for almost the whole history of space and time. Astronomers spotted the object using NASA's Hubble and Spitzer space telescopes, with the aid of a naturally occurring cosmic zoom lens as well."

Jared Leto looking luscious in drag on the set of The Dallas Buyers Club.

Tyler Clementi Foundation launches in NYC.

Male burlesque having its moment: "Audiences go crazy for glittered nipples," he told them. "The hipsters can't handle it."

Actors and the producer of Terrence McNally's Corpus Christi about a gay Jesus Christ and apostles have been charged with blasphemy: "Charges of "insulting religion" and "malicious blasphemy" have been filed after Bishop Seraphim of Piraeus lodged a lawsuit against those involved in the play, the officials said. The play's director told Reuters he was stunned that prosecutors had chosen to go after him rather than pursue tax evaders and others blamed for driving Greece to near-bankruptcy."

Montreal boys pose for Movember.

Can James Bond win an Oscar?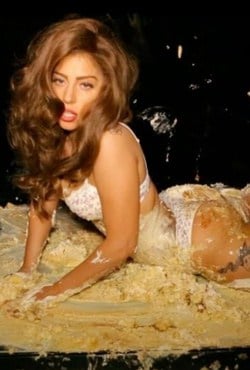 Lady Gaga frolics in a giant cake as part of a project with photographer Terry Richardson.

Ke$ha has a new Ke$ha-esque song out. It's called "C'mon".

And James Franco has directed Lindsay Lohan in a video for R.E.M.'s "Blue".

Flipping Out's Jeff Lewis sues assistant Jenni Pulos over tell-all memoir: "The
suit, filed in Los Angeles County Superior Court, states that 'In her
employment with Jeff for these many years, Jenni has become privy to
both trade secrets and other confidential information relating to the
operation of the plaintiff businesses as well as highly confidential
personal and private information relating to Jeff's personal life and
business dealings,'"

LGBT students in Arizona feel protected at Q High: "'In a perfect world, we wouldn't need a separate school, but until we can get rid of homophobia, I think we are still going to need special environments,' said Stephen Russell, a professor at the University of Arizona who studies health and development of lesbian, gay, bisexual and transgender youths. Q High, short for Queer High, is technically not a school. One-n-Ten, a local non-profit that provides gay youths with mentoring and other services to promote self-acceptance, healthy choices and work preparation, partnered with the online public-charter school Arizona Virtual Academy to create the hybrid program. It's the first in Arizona and one of only a handful nationally."