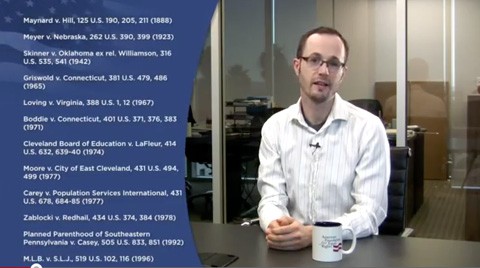 As you probably know, this Friday the Supreme Court will conference on the DOMA and Prop 8 cases in front of it, and decide what they'll be taking on. AFER's Matt Baume takes us through the 14 cases in which the Supreme Court has ruled on marriage in a new video.
Watch it, AFTER THE JUMP…
In related news, SCOTUS Blog is publishing a four-part series on same-sex marriage and posted the first article today:
At its private Conference on Friday, the Court is scheduled to consider ten separate petitions seeking review of lower court decisions on that issue.  Eight of the petitions deal with the constitutionality of a 1996 federal law, the Defense of Marriage Act, as it applies to gays and lesbians who are already legally married under state law.  One petition deals with a similar state law adopted in 2009 in Arizona for state employees.  And the tenth involves the constitutionality of California's "Proposition 8," a voter-approved ban on same-sex marriage in that state.  Today's first article in the series deals with the choice of a constitutional "standard of review" — that is, the test to be used to judge the validity of any of these laws.  Later articles in the series will deal with the legal arguments for and against same-sex marriage, and with the options the Justices have as they consider the ten petitions.