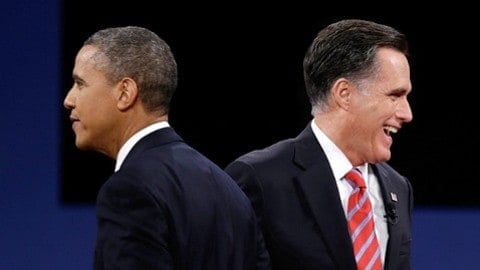 CNN today posted op-eds from President Obama and Mitt Romney, both of whom were meant to lay out their "vision" for the country. Here are the first two paragraphs of those pieces.
The language, word choice and narratives pretty much sum up the candidates' differences.
First, Romney:
On June 2, 2011, I began my quest for the presidency on the farm of Doug and Stella Scamman in Stratham, New Hampshire. I said then that our country is a land of freedom and opportunity. I spoke of the hard work of the millions of Americans who built our remarkable experiment in self-government. They carved out of the wilderness a land of immense prosperity and unlimited potential. I said then that "I believe in America."

For more than a year now, I've carried that message across America. As
we draw close to Election Day, it is a good moment to reflect on what
it means to believe in America.
Now Obama:
For the past few days, all of us have been properly focused on one of the worst storms of our lifetimes. We mourn those who were lost. And we pledge to stand with those whose lives have been turned upside down for as long as it takes them to recover and rebuild.

Because when hardship hits, America is at its best. The petty
differences that consume us in normal times quickly melt away. There are
no Democrats or Republicans during a storm — only fellow Americans.
That's how we get through the most trying times: together.
Sure, one of the men's essays is colored by his power and responsibility as president, but it's pretty telling when a man looking to lead United States starts his closing argument with a first person introduction, nor makes even the slightest mention of the nation's most recent natural disaster.