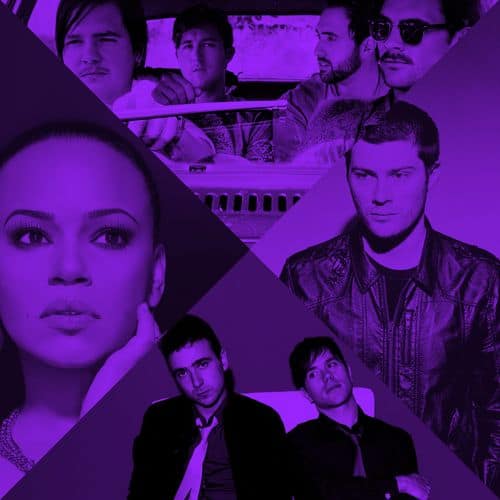 BY OCCUPY THE DISCO / JOSH APPELBAUM
The OXD Mirror is a weekly music column brought to you by the boys of OCCUPY THE DISCO (OXD), a New York City based movement created by three music lovers, Ru Bhatt, Josh Appelbaum, and Tadeu Magalhães, who want to share their love for disco, house and dance music with the world.
Youngblood Hawke: 'We Come Running (RAC Mix)'
Sometimes the best musical formula comes from an organicmeeting of minds between friends, which is how the L.A.-based band Youngblood Hawke cameabout.  Two former members of Iglu andHartly continued working together after thge band disbanded and eventually 3 other friends joined on overtime to form this highly-buzzworthy band. Their first self-titled EP was just released featuring the first single,the standout track 'We Come Running.'  The band pulls out all of the stops on this freshman effort, includingchildrens' choirs, upbeat guitars and addictive dance beats reminiscent ofMGMT.  RAC (Remix Artist Collective) putsa nice spin on the song, playing up the dramatic pauses and the kids chorus inthe background.
Good Night Keaton: 'Next to Mexico (Mighty Mouse Remix)'
Aaron Shanahan got his start with the critically-acclaimedelectronic band Miami Horror, playing drums for the band for the past four years.  Amidst recording and touring, he realized hispassion for dance music and production, and created his own side project,Good Night Keaton.  Though he's been busywith making mixtapes and remixing other artists' work, 'Next to Mexico' is hissecond original track release.  AcclaimedDJ and producer Mighty Mouse adds a more uptempo pacing to the song, giving theonce breezy song a harder, club-ready feel.
Sam Sparro: 'Shades of Grey (Plastic Plates Remix)'
I've been a big fan of openly gay artist Sam Sparro sincehis 2008 self-titled album, which many know from the massive hit 'Black andGold.'  The Australian-born, L.A.-bredsinger has a talent for creating dreamy and moody songs that showcase hissoulful voice.  He released Returnto Paradise this past year after teasing us with hisfirst single 'Happiness' some months back. Though 'Shades of Grey' is one of the more morose tracks from the newalbum, Felix Bloxsom, also known as Plastic Plates, has remixed the track withslick beats to make it dancefloor-ready.  Bloxsom has a knack for turning slower tracks like Adele's 'Set Fire To The Rain' and Sia's 'Cloud' into sophisticated unique dance songs, and he succeeds again with Sparro's 'Shades of Grey.'  Interestingly enough, Sparro and Bloxsom went to the same primary school and their grandfathers both played in a jazz band together; Bloxsom also supported Sparro's last tour on the drums. 
The boys of OXD are excited to see Sparro live in New YorkCity on Friday November 30th along with one of our favorite discoacts, Jessica 6.  Come join us next weekat Webster Hall – details can be found here.
MORE TRACKS, AFTER THE JUMP…
Faith Evans: 'Love Like This (Behling + Simpson Edit)'
Many of you are probably familiar with Faith Evans' 1998 hit 'Love Like This,' a decidedly 70's Disco and R&B era inspired song thatcame out in a time where it was still not a favored genre to reference.  The track samples 'Chic Cheer' by American disco group Chic. The video even featured Evans on rollerskates breezing around a roller rink, showing the world her renewed positiveoutlook after the recent loss of her ex, Notorious B.I.G.  The genius of this song, even over 10 yearsafter its release, was not lost on DJ and production duo Behling & Simpson.  Known for their love of the slow dance beat,they've infused their fresh take into this song and made it relevant again in2012.  Don't be surprised if you hearthis one out.
Viceroy: 'While We're In Love (feat. Ghost Beach)'
Producer Viceroy seems to be having fun qith his own brand of poolside ready nu-disco musicand remixes. Tadeu featured his remix of DCup's 'I'm Corrupt' on 10/5's OXD Mirror and we've kept aclose eye on him ever since.  His latestsingle, featuring New York City duo Ghost Beach, infuses their synth-heavy 80's sound with his masterful production.  The result is a hard-hitting dance track with lots of juicy peaks and plateaus.
New Navy: 'Regular Town'
New Navy have an interesting rap sheet – they started out playing dark indie tunes, then collaborated with the likes of Tiësto and ultimately signed to the Future Classic record label, home of Flight Facilities and Anna Lunoe.  A summer trip to Bali shifted the Aussie band's direction to a more tropical and laidback vibe.  Perhaps the single cover might give that away, but that direction is strongly felt in their latest catchy pop tune 'Regular Town'.
The Presets: 'Promises (Lifelike Remix)'
Though they've been around for nearly 10 years, The Presets are really lighting up the music world with their latest album Pacifica.  The band is one of the few like Cut Copy that survived the life and death of electro-pop music, with a sound evolving and becoming more sophisticated with each album.  The third single from the album, 'Promises', has gotten the remix treatment from quite a few producers, including Plastic Plates, whose remix for Sam Sparro is featured earlier in this post.  French electronic producer Lifelike, who has worked with artists like Chromeo, Empire Of The Sun and A-Trak, mixes in a layer of richness and complexity to the already lush track. This is the second re-work Lifelike provides to the Aussie duo, following their now classic version for 'This Boy's in Love,' released in 2008. 
This week's post was written and curated by Josh Appelbaum.
For more information on OXD, check out our website and accompanying blog at www.occupythedisco.com, like us on Facebook, or follow us on Twitter: @OccupyTheDisco.