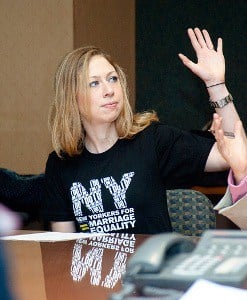 Increasingly worried about the blurry lines between stoic, non-partisan NBC News and their liberal, definitely partisan cousin MSNBC, executives at the peacock network have been trying to clearly delineate the two sides, and it appears they want to keep special correspondent Chelsea Clinton in the neutral camp.
BuzzFeed reports that executives behind-the-scenes put the kibosh on a pro-gay marriage ad in which Clinton starred:
NBC News blocked backers of a key marriage equality measure in
Washington State from using a video featuring Chelsea Clinton urging
voters to support a state-wide referendum on gay marriage, BuzzFeed has
learned.

Clinton, a vocal proponent of marriage equality, cut the
video for a group supporting the Washington state measure, as well as a
second video for another group. But NBC, for which Clinton works as a
"special correspondent" since last November, "scuttled" the campaign,
sources familiar with the ads said.

…

In the video, a third source said that Clinton described her belief that
everyone should have the freedom to marry, detailed the importance of
the upcoming votes, and stated that success in the states voting on
marriage would send a message to rest of the country.
NBC did not respond to the story before it went to virtual press. As for Clinton, she'll soon have to decide whether she wants to continue pursuing journalistic endeavors, endeavors which were coolly received, and what would most likely be a vibrant career in the political sector.