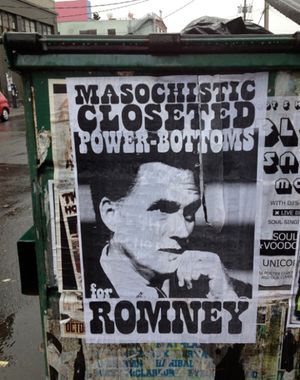 PHOTO OF THE DAY: Mitt Romney has the masochistic closeted power bottom vote nailed. 
BY SAM GREISMAN
A look back at the top stories on Election Day
ELECTION 2012
Today is the day at long last. We will be live blogging the big night starting at 6:45pm EST.  It has come down to this and while the two candidates make their last ditch efforts to squeeze out every last vote, Nate Silver's belief in an Obama win is up to 92 percent. Check out Silver explaining his number crunching techniques with Stephen Colbert last night. In Pennsylvania, squeezing out every last vote may include machines that vote for the other guy. 
Obama made his final campaign speech last night in Iowa, the state that started his Presidential bid back in 2008, and he got a little teary eyed. No matter what happens tonight there is little doubt that this is a very divided electorate, Rachel Maddow and Frank Rich take a look at the shifting demographics in America. 
For a bit of levity tonight we present this video of the Presidential Debates getting the bad lip reading treatment.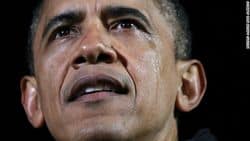 **
GAY RIGHTS AND FIGHTS

Ohio Senate Candidate Josh Mandel has tried to walk a non-sensical line by saying that he was against the repeal of DADT, but will also be "blind" to sexual orientation and support everyone in Ohio. Well a family member just blasted his hypocritical beliefs in a Cleveland newspaper. Further east, Protect Marriage Maine (the group trying to stop marriage equality in the state) has released (and then revoked) a final desperate plea against gay rights. 
Good news across the Atlantic where Spain has ruled gay marriage is constitutional. 
**
VIDEOS OF THE DAY
With just a few hours until the first polls close, Cartman may have the secret weapon that will decide the race. Also Christina Aguilera's second single off her latest album has reportedly leaked online.