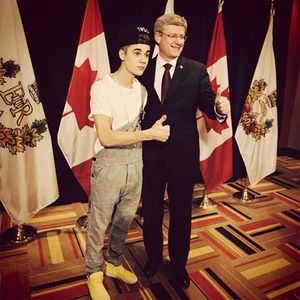 PHOTO OF THE DAY: The Biebs looks not at all trashy while meeting the Canadian Prime Minister. 
BY SAM GREISMAN
A look back at today's top stories
HATE SPEAK
With news coming late last week that Uganda's so-called "kill the gays" bill has cleared a key committee, Jim Burroway at Box Turtle Bulletin gives us a rundown of all of the inhumane decrees in it. Both Tony Perkins and American evangelical Scott Lively are rejoicing in the potential hate legislation. 
Two more examples of anti-gay sentiment abroad. Check out this very moving video about the hardships that members of the LGBT community face in the United Arab Emirates. Also a militia in Libya has reportedly captured twelve men that they have boasted about torturing and killing because they are gay. Horrible. 
On the home front a woman in Alabama is recovering from an anti-gay motivated attack by her girlfriend's brother. The pictures are truly nightmarish. 
**
VIDEOS OF THE DAY
Neil Patrick Harris has come forward with shocking details about his affliction that causes his dreams to be in puppet form. Also straight men and lesbians are responding to that "gay men will marry your girlfriends" video. 
Lastly, in the UK dudes are milking themselves.