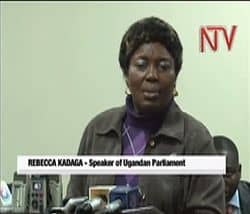 Uganda's so-called "kill the gays" bill is poised for debate in parliament and LGBT rights groups in Uganda are pleading for the world to take notice and action. Christian clerics at a recent meeting in the Ugandan capital, Kampala, have asked the speaker, Rebecca Kadaga, to pass the law as "a Christmas gift." Kadaga echoed that sentiment in a conversation with Reuters.
The bill could come up as early as today:
The proposed legislation could come up for debate in the next few days after it was included as the third item on Thursday's order paper for parliamentary business, said Helen Kawesa.
"After parliament has disposed of all the business ahead of it on the order paper it will then move on to discussing that bill," Kawesa said.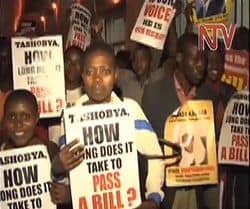 Among the bill's provisions, according to an email from Sexual Minorities Uganda's Frank Mugisha:
"Any person alleged to be homosexual would be at risk of life imprisonment or in some circumstances the death penalty"
"Any parent who does not denounce their lesbian daughter or gay son to the authorities would face fines of $2,650 or three years in prison"
"Any teacher who does not report a lesbian or gay pupil to the authorities within 24 hours would face the same penalties"
"And any landlord or landlady who happens to give housing to a suspected homosexual would risk 7 years of imprisonment"
Similarly, the Bill threatens to punish or ruin the reputation of anyone who works with the gay or lesbian population, such as medical doctors working on HIV/AIDS, Civil Society leaders active in the fields of sexual and reproductive health; or even religious leaders providing guidance and counseling to people who are unsure of their sexuality or any other consultations. There are claims that the bill has been watered down, however we reiterate our position that we condemn this bill in its entirety.
The existing law has already been employed in an arbitrary way, and this Bill will just intensify that effect.
Adds Mugisha in the email: "All of the offences covered by the Bill as drafted can be applied to a Ugandan citizen who allegedly commits them – even outside the country of Uganda! At the very least, the bill violates all principle human rights and if enacted, it would contravene 8 articles of Uganda's own constitution. It not only violates the Constitution of Uganda but Uganda's international human rights obligations, and also stifles debate, undermines Civil Society and demeans the common citizenship of all Ugandans."
Jim Burroway at Box Turtle Bulletin has an EXCELLENT breakdown of what the provisions in the law would do and who they would affect. It is draconian and terrifying.
From the Civil Society Coalition on Human Rights and Constitutional Law, Uganda:
The Anti-Homosexuality Bill is on order paper today under NOTICE OF BUSINESS TO FOLLOW No.3. Meaning it will be on business of the day any time from tomorrow. Following the caution to the international community not to make any loud noises until the bill scheduled for debate, it is now with profound sadness that we give the clear for any form of international outcry against this determined move by parliament to pass this bill. We urge you all now to go all out to condemn this move in any way you see as fitting including statements (we would be glad if President Obama and other world leaders issued stern statements condemning). Thank you and hoping with all our hearts that this action by parliament does not come to pass.
You can write the U.S. State Department on its Facebook page HERE.
Activist Scott Long suggests "one of the best things people could do is write to their own foreign ministry demanding they make immediate representations to the Ugandan government about the bill. Alternatively write or call your national embassy in Kampala." There are lists of foreign embassies in Uganda at:
http://www.embassyworld.com/embassy/Uganda/uganda2.html
http://embassy.goabroad.com/embassies-in/uganda
You can also sign AllOut's petition HERE.