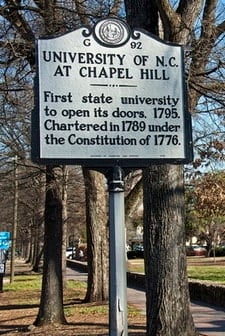 The University of North Carolina at Chapel Hill is adopting new dorm rules to help students, particularly LGBT students, feel more comfortable in their school-provided digs.
From local ABC affiliate WWAY-3:
The board of trustees unanimously endorsed Thursday "gender-neutral"
housing. Supporters of the gender non-specific housing option say the
move would help students – specifically gay, lesbian, bisexual and
transgender students – who are being harassed and bullied in traditional
on-campus housing.

Students will be able to apply for the option of choosing roommates
of either gender in campus suites and apartments. The university
already has coed dorms but students of the opposite sex do not share
rooms.
How long before the right gives this some kind of "gay agenda" spin.