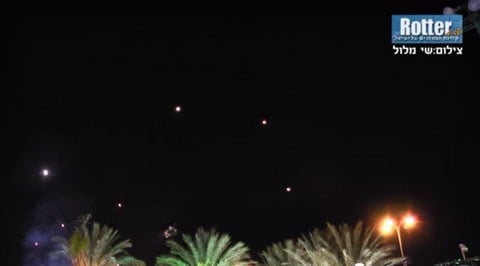 An Israeli wedding video posted to YouTube shows missile defense taking out inbound Hamas rockets while a female cover version of Maroon 5's "Sunday Morning" plays languidly in the background and the sounds of guests are heard reacting.
Sirens interrupted a wedding in the city of Beersheba (about 25 miles from Gaza) and a photographer caught a barrage of rockets on video. You can also see about a dozen Iron Dome interceptions. This may even be a different view of the same volley of rockets shown in the OP's video, although I'm not certain.
Watch, AFTER THE JUMP…
Meanwhile, signs are mounting of a possible Israeli invasion of Gaza:
Fighting between the two sides escalated sharply Thursday with a first-ever militant attack on the Tel Aviv area, menacing Israel's heartland. No casualties were reported, but three people died in the country's rocket-scarred south when a projectile slammed into an apartment building.
The death toll in the densely populated Palestinian territory climbed to 19, including five children according to Palestinian health officials, as waves of Israeli fighter planes and drones sent missiles hurtling down on suspected weapons stores and rocket-launching sites.
The U.S. Senate has expressed its support for Israel:
The bipartisan resolution, with 62 Senators as co-sponsors joining the two, expressed firm support for Israel's "inherent right to act in self-defense to protect its citizens against acts of terrorism."
"As a bipartisan group of Senators committed to Israel's security, we express our solidarity with Israel during this deeply challenging period and denounce the reprehensible and indiscriminate rocket attacks launched by Hamas and Islamic Jihad against innocent Israeli citizens," the senators said in a joint statement. 
 
"These statements demonstrate that America continues to firmly stand with Israel and her right to defend herself," it said. "No nation can tolerate constant barrages of rockets against its civilian population."
Egypt has sent its Prime Minister Hesham Kandil, to Gaza as a show of solidarity:
The move prompted Israel to agree to a temporary, though flawed, cease-fire even as it sent armored vehicles toward Gaza and called up reservists for a possible invasion.
The frail truce barely took root. Even as Prime Minister Hesham Kandil of Egypt arrived in Gaza, Israel Radio said Palestinian militants fired 25 rockets into southern Israel, with one rocket striking a house There were no immediate reports of casualties.