Last election, anti-gay activists in the state of Iowa punished three Supreme Court justices who voted to legalize same-sex marriage in the state. Yesterday, they tried to punish a fourth, Justice David Wiggins.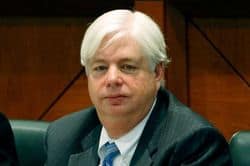 But they did not succeed.
The Des Moines Register reports:
Wiggins, 61, needed a simple majority of votes to stay on high court. With 83 percent of Iowa's 1,689 precincts reported, Wiggins had 54 percent.
"As I understand the numbers, I think we did get a decisive win" that hopefully will prevent future challenges to judges, said Iowa State Bar Association Cynthia Moser. "We've very pleased with the numbers we received."
Bob Vander Plaats, head of the Iowans For Freedom committee that spearheaded a campaign to oust Wiggins, conceded defeat late Tuesday. However, he said the apparent small margin for retention was "not a great validation for Justice Wiggins."
Thousands of voters on Tuesday repeated the message sent two years ago that they didn't want the courts to make law, Vander Plaats said. "I think the courts understand that people of Iowa still have a voice if they chose to go outside their constitutional boundaries."
Said HRC President Chad Griffin:
"Iowans have made a strong statement for judicial independence and refused to let politics get in the way of judges doing their duty to uphold the law. Right-wing groups trying to exact political retribution on judges should learn their lesson. Marriage equality remains the law of the land in Iowa and judges will continue to do their jobs."
One Iowa writes:
Here at One Iowa, we are also celebrating a victory by Senator Mike Gronstal in Council Bluffs who has put his career on the line in defense of marriage for all loving and committed couples and has led Iowa in the right direction. With his reelection, voters sent a clear message that Iowans stood up for Senator Gronstal because he stood up for Iowa families. We look forward to working with Senator Gronstal and the pro-equality majority in the upcoming legislative session on the issues that matter most to Iowa families.
 
Justice Wiggins withstood the attacks by anti-equality forces in this state and was retained by the voters of Iowa. With the retention of Justice Wiggins, we sent a strong message to Mr. Vander Plaats and his friends at the National Organization for Marriage: Iowans are proud of our state that values equal protection and all families.
Watch Vander Plaats react to the Wiggins retention, AFTER THE JUMP…