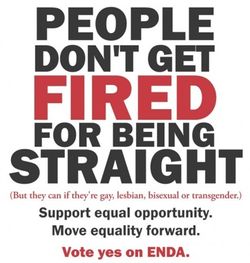 It looked earlier this year as if President Obama would go ahead and sign an executive order prohibiting LGBT discrimination by federal contractors. Then he didn't.
Now that he's won a second term, though, groups like Human Rights Campaign plan to pressure the commander-in-chief to make good on that order and, they hope, to finally make serious progress on an issue that has lingered in Washington for decade: Employment Non-Discrimination.
From The Hill:
[HRC and others] argue that if Obama
signs the order it could encourage Capitol Hill to pass broader
legislation that would extend a similar ban to employers.
Allison Herwitt, legislative director for the Human Rights Campaign,
said gay rights supporters want to see movement from the president soon.

The push is to have them do it sooner instead of later," Herwitt said.
"I do think it helps pave the way for a fully inclusive [Employment
Non-Discrimination Act]. … It is the way that the government puts its
imprimatur on what's important and makes a difference in people's
lives. The president would be saying it's important not to
discriminate."
A poll from last year showed that about 73% of Americans support prohibiting LGBT discrimination in the work place. About 90% of people believe such protections already exist, so education is a good place to start.